Glowing Reflective Basketball is made of patent-pending holographic, reflective leather and is a complete breakthrough in sporting goods technology, revolutionizing the way sports are played.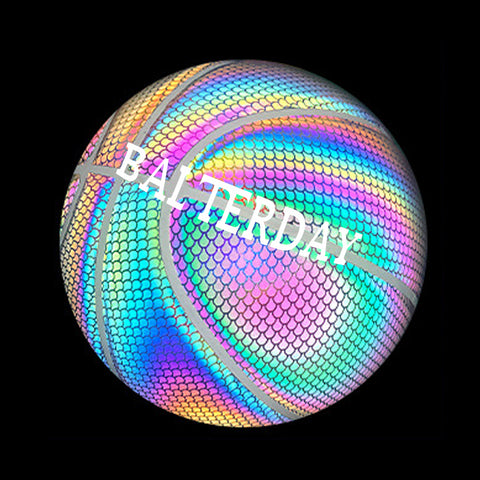 THE GLOW EFFECT-

 

The Holographic Glowing Reflective Basketball is an official NBA size basketball appears holographic or glows in photos or videos when the camera flash is on.
PERFECT FOR SOCIAL MEDIA POSTS-

 

The lights balls photos and videos you take are great for sharing on social media like Instagram, Snapchat or any other place to share content online.
GIVE A UNIQUE GIFT-

 

Chances are, no one you know has seen a basketball like the HoloGear™ Holographic Glowing Reflective Basketball, and any basketball-lovers you know are sure to be surprised by its unique holographic appearance.
DURABLE QUALITY LEATHER-

 

The indoor and outdoor ball is made with composite hygroscopic leather with 100% nylon windings and a rubber bladder for excellent bounce shape retention.
HOW IT WORKS-

 

TheGlowing Reflective Basketball leather is coated in polyurethane, often referred to as PU leather, which is brand new technology to be implemented into sports equipment.


Color: Multi Color Glow
Size: Mens - 29.5 in. Womens - 28.5 in.
Comes inflated in packaging
includes one pair of HoloGlasses
OUR BRAND aims to get people ACTIVE by using NEW GLOWING TECHNOLOGY  to add a fun new twist to play sports you already love. You and your friends or teammates can keep practicing when the sun goes down!

PLAY SPORTS AT NIGHT

People of all ages love this basketball, whether you are a pro, enjoy a pickup game, or just love playing basketball – this ball is for you.

It's the perfect gift for any athlete! Be one of the first to own the coolest basketballs ever and light up your game today
---
👉 Our Guarantee
HoloGear truly believes that we make the most innovative sports gear in the world and we want to make sure you can experience this revolution in sports risk-free. Here's how: