Give the gift of singing with this portable wireless microphone!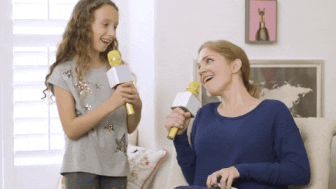 Who doesn't like singing? Every once in a while we find ourselves humming a song, especially children. They love singing! We have now created a product, Wireless Portable Bluetooth Karaoke Microphone for people of all ages to enjoy singing their favorite songs.
Now you can bring the whole fun of karaoke in your hands. This stylish and fashionable microphone with sound amplification and wireless Bluetooth technology brings joy and laughter.
Karaoke whenever, wherever with this microphone, featuring a built-in phone holder to pick your song and display the lyrics so you can sing your heart out!
Professional Quality: Using the latest in wireless Bluetooth technology, the microphone with noise canceling technology. Two high-quality inner-magnet loudspeakers, help you finding the perfect voice, giving you crystal clear sound quality. No more old, wire microphones!
Wireless: With Bluetooth as well as cable connection, you can connect it to your phone any way you like and open a singing app. You can now carelessly listen and sing your favorite songs anytime and anywhere.
Easy To Use: Multi-function buttons can adjust the Music, Echo, Volume and PA/R. USB port allow you to plug USB and turn this magic piece to MP3 and play directly. With multiple buttons to get the perfect tune, you can sing like a professional.
Portable: This karaoke microphone looks fashionable and stylish, works professional, it made with aluminum alloy, sleek, durable and with stylish design. It is compatible with Android, iPhone, iPad, IOS and all Smartphone along with micro SD card max 32G support. You will be able to use it anywhere.
Lightweight And Durable: Made with aluminium alloy, it is durable and will last you for a long time. Being lightweight, you can carry it anywhere and your kids can also enjoy it without dropping and comfortable to use.
Specifications:
Frequency range: 100Hz 10khz
Maximum sound pressure level: 115 dB 1khz
Total harmonic distortion: less than 1%
Reverb mode: Echo-reverb
Power: built-in lithium battery
Battery capacity: 1800 mAh
Material: Aluminium + ABS